Brook PS3/PS4 to PS2/PS1 Super Converter
Brand

SKU:

301600110

UPC:

4713291620203
PS3/PS4 to PlayStation 2 Controller Adapter
Use your PS3/PS4 controllers on your PlayStation 2 & PlayStation 1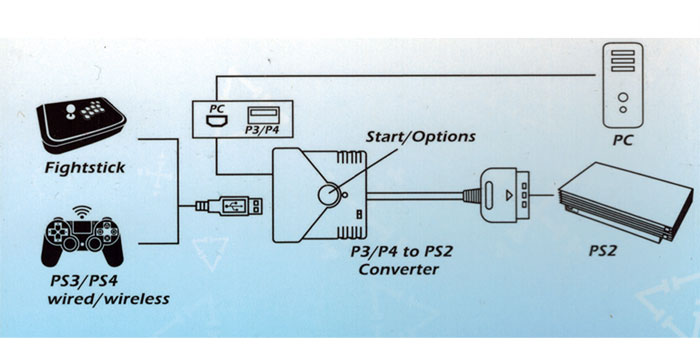 Overview
Brook Super Converter series makes old controllers compatible with new consoles. This not only saves you money but also means that you can use the controllers you have grown accustomed to. Installation and use of thePS3/PS4 to PS2 Controller Adapter is effortless.
Features
Compatible with gamepads and joysticks

Auto-register controllers

Optimal button mapping

Vibration support

Lightweight and USB-sized

Work on PS2 and PC

Hot swapping

Full compliance with environmental standards

No original controller needed for verification

Firmware upgrade
Button Configuration
All key functions map perfectly!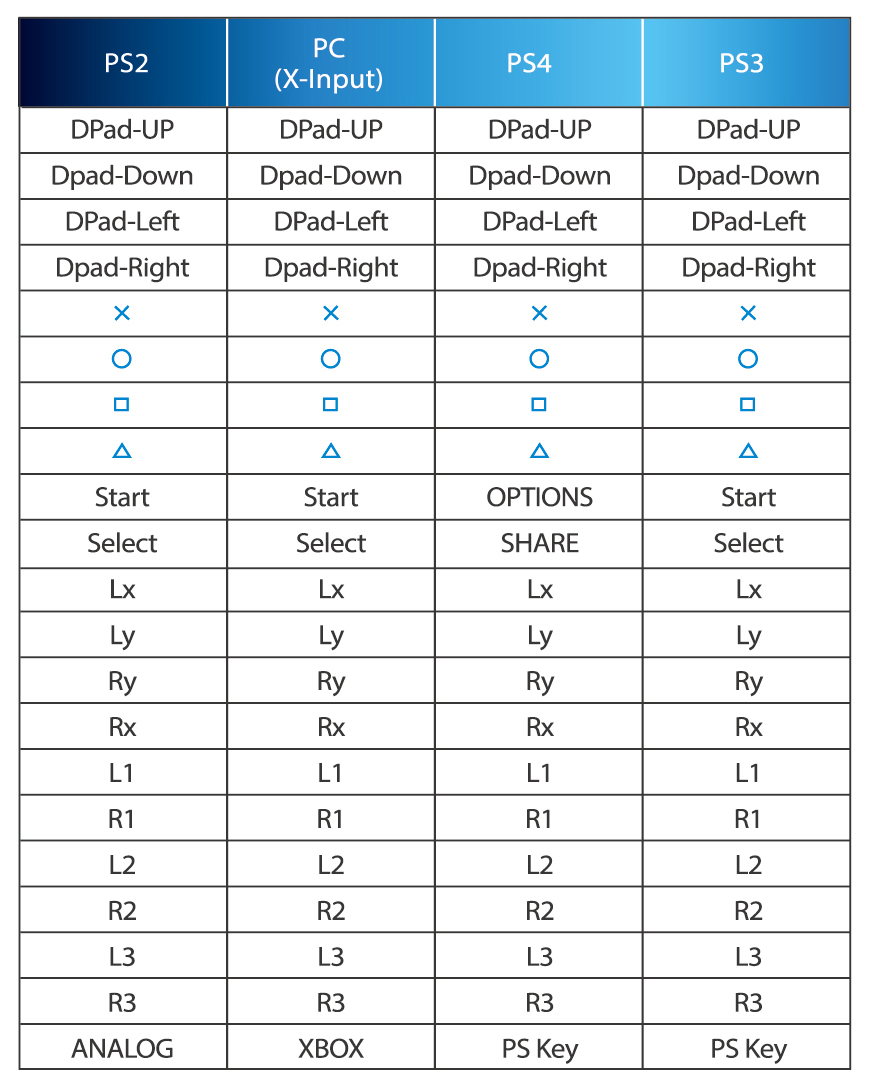 Disclaimer
Each Brook Super Converter can only handle one controller at a time.
PS3/PS4 controllers connect to the Controller Adaptor automatically, but must be connected with a USB cable at first time use for the purpose of registering the controller.
Compatibility
The list below indicates the controllers/sticks/wheels that have been tested to be compatible or not compatible with the converter.
For those controllers/sticks/wheels which are not listed indicates that they have not been tested yet.
Go to Contact Us for assistance or suggestion.
HORI PRO V4
HORI Dead or Alive 5 Last Round
HORI Real Arcade Pro.3
HORI Real Arcade Pro.4 Premium VLX
HORI Fighting Edge 刃
HORI PS3 Hori Fighting Min3
HORI REAL ARCADE PRO.V SILENT HAYABUSA
HORI Pad 3 Pro Contoller
HORI Real Arcade pro V HAYABUSA silent 2017 version
QANBA Drone
QANBA Q1
QANBA Q4
Venom Arcade Stich PS4/PS3
KDiT 2013 Snake
MadCatz TE2
MadCatz Street Fighter Tournament Edition S
MadCatz Street Fighter®V Arcade FightStick™ Tournament Edition 2+ for PS4 & PS3
MadCatz Street Fighter®V Arcade FightStick™ Alpha for PS4 & PS3
MadCatz Street Fighter®V FightPad PRO™ for PS4 & PS3
SEGA Virtua Stich High Garde PS3
Etokki Omni Arcade Stick -Sanwa Edition
Activision 吉他英雄Live
Nacon nacon revolution
Razer Raiju Gaming Controller
Razer Panthera Arcade Stick
Etokki:Omni Arcade Stick -Sanwa Edition
ToToTEK PS2 to SNES Adapter
Mayflash: Arcade Fighting Stick MF002 for Xbox360 / PS3 / PC
Mayflash: Arcade Fighting Stick PC042 PS2 / PS3 / PC
Natec: Genesis P65 Gamepad for PS3&PC
PS3 HKS racing controller
NG
Qanba Q2